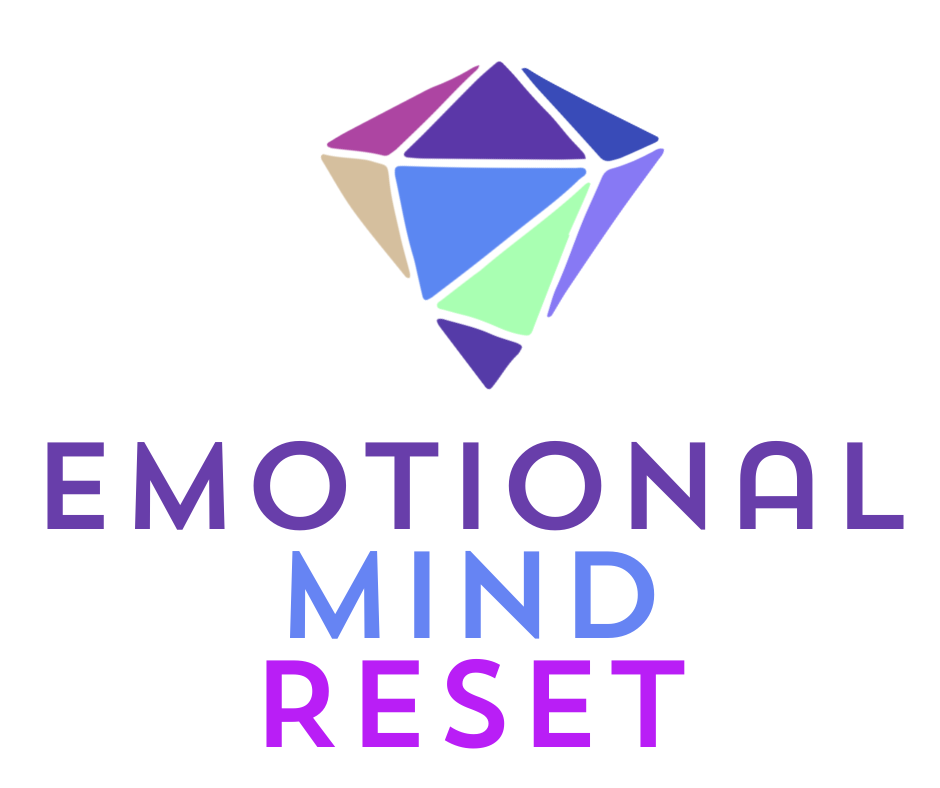 Emotional Mind Reset (EMR) durably changes your vibe in minutes
It is a fast, autonomous way to shift your energy around a deep-rooted topic.

That deep unease needs to go, and you know it.

You can now leverage the power of Tapping (think emotional acupuncture, without needles!) with a supercharged, energetically powerful and carefully crafted tapping session.
Every time.

Emotional Mind Reset does just what its name says: it resets your Emotional Mind to provide you relief and the boost your need, without undergoing hours, weeks and months of the proverbial "peeling the layers of the onion".
You have two easy choices and you can read about them here:
Your very own private one hour, recorded session on any topic
A powerful pre recorded I AM ENOUGH Session MP3
THIS EMR was a great Thanksgiving gift to myself . Thank you and thank me??????
Gosh I have never yawned so big, so much and one after another ever in my life… Whatever was released was big… I was afraid my jaws might dislocate??
And at the very very end, at the underarm tap, I got a pain in my… like left tonsil… let me check what we say there…"I am free, I am lovable,I am enough… now and forever"… that hurt my throat… I needed that… That's the throat chakra. With everything that's going on, I am not surprised. I will do another round in the morning.
I came up with this "secret recipe" naturally, by combining what I do routinely for myself, what I practice professionally, what I intuitively present my friends with when they came to me with issues, plus all the little bits of wisdom I picked up over the years.

No amount of harrowing talk therapy to try to rationalise this or that, will cover everything: emotions are always going to run the show.

No amount of listening to a hypnotist boring you into a trance with a never-ending walk on a beach somewhere, waiting for a flag to go up a pole, will hit the energetic knots and blocks you are dealing with.

No amount of pre-fabricated affirmations can shift you that fast. I use affirmations, but how many times are we told that it can take months to manifest what you repeat over and over again?!

There is always that divide between emotions and the mind, as though we can work on one, without the other. There is always a low grade energy, lurking in the background.

Of course we can have significant breakthroughs with those techniques, heck, I am a Rapid Transformational Therapy Practitioner amongst other things, but as users, we are always relying on someone else's input at specific times, with an exchange of money each time, and so much explaining and exploring and guilt inducing analysis to go through… It feels heavy and I don't like heavy.

I have spent many hours applying various techniques to myself, as well as using others that are very well respected, as a practitioner. The aim was always to resolve issues, dissolve blocks and generally enhance lives. But I was frustrated, as you probably are. Short of turning to voodoo, how could I resolve some of that stuff for myself?!

I also spent thousands on myself, and on what I trained in, in order to help others. Something was always off, cumbersome, not quite right, both for me as a subject and a practitioner.
It was a long quest of never quite finding the surefire, workable, quick, empowering, affordable, deep and practical way to deal with a little bit of everything at the same time.
I wanted to multiply the energy shifts needed to precipitate for an up-levelled life.
And I don't know about you, but I don't have four hours a day to dedicate to reading, meditation, listening to inspirational podcasts, grounding, looking after the temple that is my body, on top of working, cooking, keeping a clean and non toxic home, rearing children, brushing cats, feeding hens, and making sure I keep my head and emotions screwed on the right way around… That list alone is enough to make anyone lose their marbles.

Throw in trauma (we all have a level of it), blocks and limiting beliefs (we all have some), people projecting their stuff onto us (please tell me you're the only human being without those people, and I will cheer for you) and so on and so forth.  And right there, you have multiple emotional, mind and physical pain points. It's a fact of life. And we can resent it as much as we want, that's not going to work either.
I am all for surrendering, but when you grab the bull by the horns and work on your darker stuff, there is no stopping you!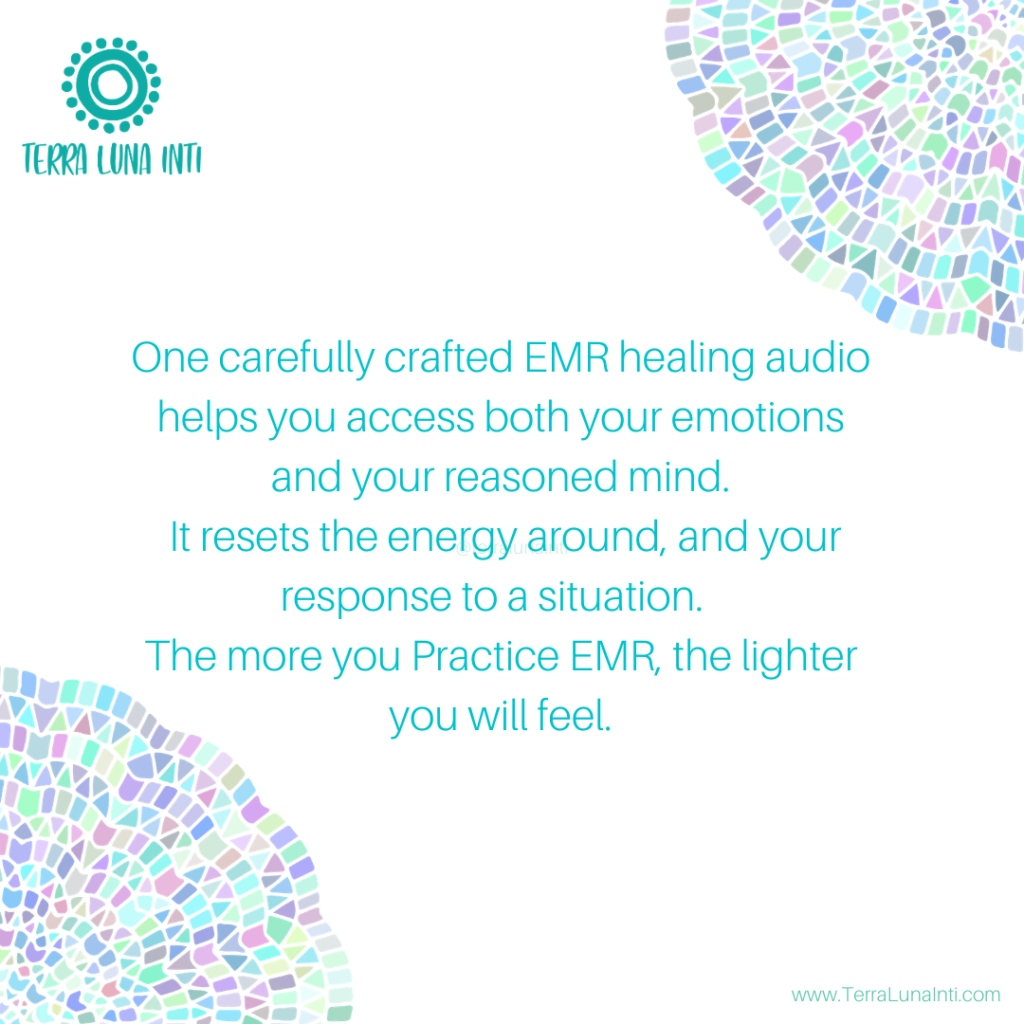 EMR is a natural aggregation of what I intuitively do. It is a powerful, super simple energy work technique.
I was doing all this so naturally that it came to the point where my Mentor told me to make a list of the tools I used, reverse engineer everything and give it a shape as guided.
That's when EMR came to life, and it came in one inspired wave, it just made sense! Maybe I could have called it Frankenhealing, but I went for the more meaningful Emotional Mind Reset…
I know EMR will help you reach those elusive shifts. It has me – and my Guinea Pigs, so I feel compelled to bring to you.
Some of those little bits of wisdom are not mainstream, they are holistic and carry energetic properties in nature, and always work for the highest good of all. With EMR I can finally incorporate them and present them to all those who are ready for easier shifts.
One carefully crafted EMR healing helps you access both your emotions and your reasoned mind.
It resets the energy around, and your response to a situation.  
The more you Practice EMR, the lighter you will feel. 
You have a choice of a private session on any topic you want to shift, or a healing MP3:
If you prefer working alone, I crafted a powerful I AM ENOUGH EMR session, and made it portable as an MP3, so you can just order the audio you need and practice when you need to.
With this, you don't need me or anyone around.
You don't need any prior knowledge because I will guide you all the way.
You can access it whenever you like, and download it on your device.
I am sure you will guide your friends to this page too. 
Hi, I liked the EMR so much I fell asleep.
I did sleep well for several hours….haven't been doing that lately, so it was welcome.
"What if I need a quick fix?"
This is where EMR gets very cool: you will use it routinely for a while (as long as you want), and feel energy shifts around issues. Whether you have your I AM ENOUGH MP3, or the recording of your private session, you can revisit it as often as you like, and maybe learn to modulate for yourself too!
You will just notice changes either on the spot, or as a subtle accumulation of changes, until they are so glaring that you won't be able to deny them.
But that's not all: once you have practiced for a bit, you will naturally use EMR as a quick fallback tool as soon as you find yourself in a funk. You will make EMR yours, by using just the sentences you will intuitively feel are the right ones for you to use at that particular moment. 
How does it even get better than that?
"So what's available?"
You must be familiar with the saying "All roads lead to Rome". In my experience as a Hypnotist, the winding roads the heart and mind all lead to a deep-seated feeling of not being enough. 
It's the kind of feeling and erroneous "knowing" that slowly gnaws at you. The red sock in the washing. The rock in your shoe. 
And frankly, who needs to feel rubbish about themselves day in, day out, for years on end? Not me. You? No? I didn't think so.
It all starts with feeling enough for most of us, and so for those who don't feel like having a live private session, I give you: I AM ENOUGH EMR healing. 
You can read more about it here… 
I know it will speak to you…
If you want your own live, private, recorded session on any topic, then you can read about it here…
Button recaps!
Private on any topic  – or Pre-recorded I AM ENOUGH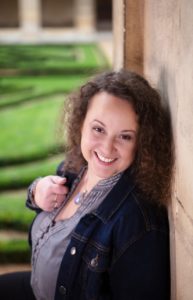 I can't wait to hear about your wins.
Elsa
Creator of Emotional Mind Reset. Rapid Transformational Therapy® (RTT) Practitioner (Hypnosis), Mindscaper®, Aromatherapy Practitioner, Bach Flowers Practitioner, Access Consciousness Bars® Practitioner, Shaman, Certified Angel Guide, Certified Sound Healer (Tuning Forks and bowls), Reiki Practitioner, Sacred Freedom Technique Practitioner, CTP, PGCE MFL. Yup. I am a bit of a Swiss Army knife... 
Disclaimer:
None of the modalities on this site are a substitute for professional psychological visits with a medical team, or a reason to stop any medication.
For safety purposes, only people with sound physical and mental health who are confident that a deep dive into their emotions will not adversely impact their emotional or mental health, should participate.
I request that you do not participate if you or your treating practitioners have any past or existing concerns about your health. This includes epilepsy, psychosis and narcissistic tendencies.
You must confirm with the medical team in charge of your mental and emotional health at least. 
Results cannot be guaranteed, moreover, results from individual testimonials are for reference only and your own personal experience may differ to those shown on this site.